CareCredit FAQs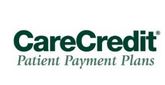 Dr. Sardo and the professionals at the Center for Beauty understand that everyone wants to look and feel their best. But not everyone has the same budget for cosmetic improvements or plastic surgery. No matter what your budget, Dr. Sardo and her staff can help you make your cosmetic goals a reality. CareCredit is a helpful tool in accomplishing this task. If you would like to consider a costly cosmetic procedure, or undergo more frequenty routine maintenance of your appearance with Botox injections or dermal fillers, CareCredit can help you finance these services.
CareCredit is a line of credit designed specifically for patients that need assistance paying for healthcare, dental and cosmetic services. CareCredit can be used at our office as well as tens of thousands of other healthcare providers across the country.
In addition to convenient monthly payments, which is something you can find with any credit card company, CareCredit offers lower rates and special financing plans with options of 6, 12, 18, and 24 months to pay off the expenses of your surgery. CareCredit is not insurance, but can be useful for patients who are living on a budget or would simply like to break up the payments for their services.
For more information visit the CareCredit website today.