Look Great Before Summer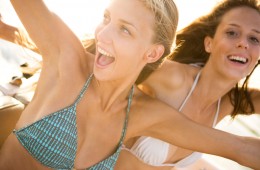 With summer on the horizon, there is no better time to undergo cosmetic surgery. Whether you want to refresh and rejuvenate your facial appearance or remove stubborn fat, Dr. Sardo offers a procedure that can help to achieve your desired looked while allowing you time to recover for bikini season.
For those wanting to gain a fresher, younger look or wish to diminish acne scars, the Vi peel or Vitalize peel are highly affective. These peels combine acids in a pain-free formula to slough off dead skin cells and reveal the fresher, healthier skin beneath. Your skin will peel away similar to after a sunburn, so it is important to stay out of the sun while the skin heals.
The TCA peel is also another great way to achieve a more rested and revitalized look. As one of the oldest forms of skin resurfacing, the TCA peel is also one of the most effective and safest chemical peels. If you are looking to eliminate fine wrinkles, TCA peel is ideal for you. Dr. Sardo performs this in under 30 minutes, and most patients experience lessened appearance of hyperpigmentation, fine lines and wrinkles and a much more youthful complexion. After a TCA peel, your skin may take several weeks to fully heal, making this a great treatment now to look to refreshed in time for summer.
Summer is bikini season and for many, baring all can be very uncomfortable. If you experience stubborn fat in the thighs and stomach area, liposuction is great option. Dr. Sardo recommends liposuction if you experience excess fat that you cannot get rid of even with diet and exercise. Liposuction is not intended as a weight loss method and is ideal for those who have less than 25 pounds of fat.
Dr. Sardo can use liposuction to help improve body contours. Because it takes about two month to recover, liposuction is an option right now if you want to achieve a more toned and proportionate figure.
Don't wait until summer has started to think about achieving your best summer look. The time to have your treatments is now so you can recover and heal before it is bathing suit season.