Pumpkins and Peels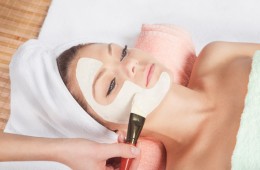 Fall is a great time to refine, clarify and freshen your complexion. Now that the sundrenched days of summer have passed, we can take advantage of skin optimizing peels to restore your skin to a glowing, dewy, even finish.
Facial peels come in a range of types and strengths from gentle exfoliation to deeper resurfacing of the outer layers. Fruit acid and enzyme peels remove dull dry surface cells revealing fresher smoother texture. Check out our recipe for a natural Pumpkin Peel below. Glycolic acid and alphahydroxy acids, lactic acid, and salicylic acids can be used in skin care products, applied as masks or used for peel solutions. These peels are often done as "lunchtime peels" and are a quick way to revitalize your skin.
Trichloroacetic Acid (TCA) peels can be found in a "no down time" formulation such as the Vi Peel or stronger formulations requiring a 7-10 day healing period. The Vi Peel has multiple benefits including refining texture, improving clarity and evening skin tone. It takes about 20 minutes in the office and is good for all skin types and ages. You look normal afterwards and can wear makeup. The outer layer of skin sheds in fine flakes by 7-10 days. Moisturizer and sunscreen are provided to minimize the appearance of the flaking and protect the new skin.
Stronger TCA peels are applied in the office and take about an hour. They remove a more significant amount of sun damage and hyperpigmentation. New skin is revealed in 7-10 days. This type of peel requires strict avoidance of sun in the healing phase and special care instructions.
At Home Pumpkin Peel Recipe:
Pumpkin peels use the enzymes in the pulp to exfoliate and introduce its vitamins (Vitamin A and C, Zinc and B-Carotene) which stimulate circulation, promote healing, and re-texturize skin.
 ¼ c. canned pumpkin puree
1 T honey (substitute with 2T cranberry juice if skin is oily)
Blend ingredients and apply to clean face for 10-15 minutes. Rinse with warm water, pat dry and apply regular moisturizer. Should you experience any burning, itching or pain as you may be experiencing an allergy.