What Can a Tummy Tuck Do For You?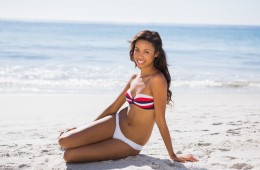 Also known as an abdominoplasty, tummy tuck surgery is an effective means of smooth stretched, sagging skin and improving your mid-body contours. Tummy tuck surgery is not a weight loss surgery and should not be used to shed unwanted pounds.
Tummy tucks can be particularly effective for patients who now have loose or sagging mid-section skin as a result of a pregnancy or other sudden/dramatic weight loss. The procedure is surgery and is very invasive. It works to tighten your abdominal wall and remove excess skin from the mid-section. If you would also like to eliminate unwanted fat you can pair a tummy tuck with liposuction or other body contouring services.
In most cases a tummy tuck can be performed outpatient – meaning you can go home the same day. However, in some instances patients may be required to stay overnight in the hospital. The procedure involves making an incision across the lower abdomen. Risks are rare, but include bleeding, infection, fluid formation under the skin and unsatisfactory scars.  A full abdominoplasty requires drains for several days and taking it easy for 10-14 days. Activity is slowly increased and most have return to full normal activities by 6 weeks.
Contact Dr. Sardo to learn more about tummy tuck surgery today.