Kybella™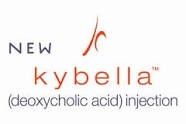 KYBELLA™ (deoxycholic acid) is the first and only FDA-approved injectable drug available that contours and improves the appearance of moderate to severe submental fullness, often referred to as a "double chin." Submental fullness is a common, yet under-treated aesthetic condition that is often resistant to diet and exercise alone and influenced by several factors, including aging, genetics and weight gain.
Simple in-office injections of Kybella™ can slowly dissolve away fat cells under the chin to reduce fullness and produce a more attractive and youthful contour. Depending on the amount of fat, several treatments may be needed (spaced 4-8 weeks apart) for optimal results.
$600-3,600.
Call the office, 858-452-6226, for an appointment to see if Kybella™ is right for you!
Related Facial Procedures: