Earlobe Surgery: Misshapen Lobes, Torn Lobe, Elongated Lobes and Gauge Holes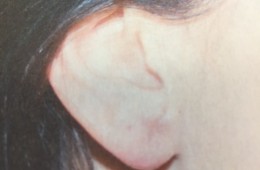 Earlobes come in different sizes and shapes. Women and sometimes men pierce them to wear jewelry. Wearing heavy earrings can elongate the hole and even the lobe as well. Eventually the hole can break through the bottom of the lobe or the lobe can tear from the jewelry getting snagged or from a small child pulling on an earring. Sometimes people with metal allergies can develop inflammation of the lobe and be more susceptible to tears. Tears causing a cleft earlobe can be easily repaired under local anesthesia in the office. The earlobe can be re-pierced in approximately 6 weeks.
There are also some congenital conditions that result in ear shape irregularities. The ear lobe can be reconstructed to make it appear more normal. Trauma, such as an accident or dog bite can leave the earlobe lacerated or missing tissue. Repair or reconstruction and sometimes reimplantation can be performed.
Very long earlobes can be out of proportion or make one look older. An earlobe reduction procedure can be performed by trimming the lobes. This is sometimes performed in conjunction with a facelift. Sutures in earlobe procedures usually stay in for one week, and the scars fade over several months, usually being very inconspicuous.
In recent years it has become popular by some people to stretch their ear holes with progressively large discs. These so called gauge holes can lead to distortion and irreversible deformity of the earlobe. This can be reversed by repairing the earlobe under local anesthesia in a 1 hour office procedure. The method of repair depends on the size of the hole. People who undergo this procedure have a high rate of satisfaction. Call the office, 858-452-6226, for more information or pricing.