Breast Implant Revision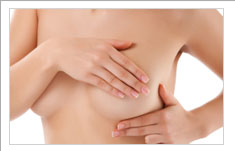 Breast implant revision is performed to change breast implant size or to correct an unsatisfactory result from previous breast augmentation. Variations in technique or healing can occur, leaving women unsatisfied with their breasts. Fortunately, breast implant revision offers these women a way to modify their breasts after breast augmentation to create the desired results.
Changes to the breasts can occur naturally or be caused incidentally by poorly performed breast augmentation. In some cases, the wrong breast implant size might be chosen or the patient's anatomy may limit the size that is possible. This may prompt the desire to change the implant size or profile. Complications of bleeding or infection may lead to capsule contracture or unwanted results that can create the need for breast implant revision surgery.
When it is not a matter of breast implant size, women who seek breast implant revision may have experienced one of the following issues or complications:
deflated implants
irregularity of shape
implant rippling
capsular contracture (excessive firmness from the development of too much scar tissue around the implant)
implant malposition
double-bubble deformity
breast asymmetry
Breast Implant Revision Procedure
Breast implant revision surgery is a highly individualized procedure which varies greatly from case to case. For the most part, the surgery is performed as an outpatient procedure requiring general anesthesia, and it can take anywhere from one to two hours, depending on the patient's needs. The procedure will usually involve replacing the implants or adjusting/excising the scar tissue. In most of these cases, the previous skin incision can be used, and the recovery is much quicker and easier than the original surgery. For patients requiring a breast lift in addition, an incision around the areola extending down to the fold of the breast may be used.
Recovery After Breast Augmentation Revision
Many women find recovering from breast revision surgery far easier and simpler than their initial breast surgery. This is due in large part to the ability to reuse the existing incision and pocket. Within hours following surgery, you can be up walking and be able to go home.
The majority of patients are able to return to work within four to seven days and resume full normal activity within a few weeks. It is important to avoid heavy lifting to ensure that no extra stress is put on the incisions and breasts. Discoloration, bruising, swelling, and tenderness are very common and should disappear within the first few weeks.
Results of Breast Implant Revision Surgery
The purpose of breast revision surgery is to give women the results initially desired with breast enhancement surgery or to modify the appearance of the breasts. While some women undergo breast revision surgery to simply replace their current implants, other women's cases may be more complex.
For most women, results can last several years; however, eventually gravity and age may alter the breasts' appearance over time. Pregnancy, breastfeeding and excessive weight fluctuations can also cause the shape and size of the breasts to change, affecting the results of breast revision surgery. Breast revision surgery is generally very effective and produces long lasting, stable results.
Cost of Breast Implant Revision
Breast implant revision surgery is a highly individualized procedure and therefore costs vary case by case. Breast implant revision in La Jolla, CA, costs between $6,000 and $14,000, depending on whether new implants are required and the scope of the procedure.
Click here to view before and after photos of Dr. Sardo's breast implant revision patients.
Related Breast Surgery Procedures: