Breast Reduction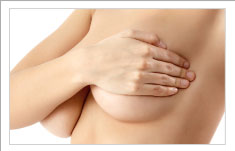 Breast Reduction Overview
Excessively large, heavy breasts can take a toll on a woman's emotional and physical health. Many women with overly large breasts tend to be self-conscious and often experience physical discomfort and pain. Overly large breasts can limit a woman's physical activity and put undue strain on the:
Women who could benefit from breast reduction often complain of painful indentations caused by bra straps and rashes from moisture irritating the skin under the breasts. Furthermore, excess fat and tissue combined with gravity can cause the breasts to sag and the areola to become enlarged due to stretched out skin. Breast reduction surgery can help to alleviate these problems.
The procedure involves removing excess breast glandular tissue, fat, and skin, to create breasts more proportionate to the patient's body. Breast reduction is one of the highest-rated procedures in patient satisfaction because it can revitalize a woman's life, improving the ability to exercise and even increasing options in clothing styles.
The Breast Reduction Surgery
Breast reduction is performed as an outpatient procedure under general anesthesia. The procedure usually takes anywhere from two and a half to three and a half hours depending on how much breast tissue Dr. Sardo determines needs to be removed. During the surgery, Dr. Sardo will remove excess fat, tissue, and skin. The breast is reshaped and lifted to create a smaller, more proportionate bust line. If needed, the areola may be reduced in size and also may be moved (keeping it attached to the breast mound) to a location that is higher and more optimal.
What Will Your Recovery After Breast Reduction Be Like?
You will spend time in a monitored recovery area immediately following breast reduction but may go home within a few hours. Dressings, surgical bra and ace wrap will be applied and a small drain may be used overnight to help drain excess fluid and help promote healing.
Initially, your breasts will be swollen and you may have some bruising, however, this should diminish within the first couple of weeks. It is important that you minimize activity for the first few weeks and follow Dr. Sardo's instructions. Sutures are typically dissolving with steristrips (tapes) over the incisions. Scars should fade over time and Dr. Sardo will discuss optimal care of the scars to help them heal faster and become more inconspicuous. Any pain can be easily managed with oral medication.
Breast Reduction Results
The results from breast reduction are noticeable immediately following surgery. For most women, their new breast size will significantly relieve back, neck and shoulder pain caused from their large breasts and can even improve posture. The results from breast reduction are long lasting; however, age and gravity can affect the shape of the breasts over time. In many cases, a more proportionate bust line will likely enhance self-confidence and self-image and patients tend to find physical activity much easier.
Risks and Cost of Breast Reduction
Breast reduction is an effective and safe procedure, but, like any surgery, there are some associated risks including infection, unfavorable scarring, nerve damage, and bleeding. Furthermore, while uncommon, there is a risk of losing sensation around the nipple and breast, which may or may not be permanent. The best way to reduce any of these risks is to not smoke and maintain a healthy lifestyle before and after the procedure.
Breast reduction is a highly individualized procedure and, therefore, costs can range anywhere from $8,500 to $13,000. On occasion, the procedure meets the criteria for insurance coverage, so be certain to check with your insurance provider. Dr. Sardo is not accepting insurance at this time for this procedure.
Click here to view before and after photos of Dr. Sardo's breast reduction patients.
Related Breast Surgery Procedures: