Breast Augmentation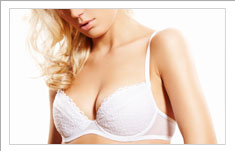 Breast Augmentation continues to be one of the most popular procedures in California, as well as nationally, and is one of Dr. Sardo's specialties. At Center for Beauty in La Jolla, California, we pride ourselves on providing a satisfying and favorable experience for your breast enhancement procedure. Whether enlarging the breasts or restoring, shape, volume and firmness, breast augmentation often enhances ones self-image and self-confidence as well as expanding one's fashion options!
Breast Implant Options
There are currently many options available, depending on your preferences for size and shape, taking your natural anatomy into consideration. Most implants will be placed under the muscle, via incisions around the areola or underneath the breasts. Implants are available in saline or silicone (99% opt for silicone. Dr. Sardo only uses smooth implants. We use Mentor and Allergan, which are offered in different projections (Moderate, Moderate Plus, High, and Ultra High). The silicone gel implant has been demonstrated to be safe and effective. All current gel formulations are more cohesive (or "Jell-O" like) than earlier models. Dr. Sardo strives to give each patient the most natural, beautiful results possible.
The Procedure
Breast augmentation takes about 1.5 hours and is performed as an outpatient under general anesthesia. Risks of bleeding, infection, capsular contracture, numbness, and unsatisfactory scarring are very low. Breast implants are not considered a lifetime device, so it is highly likely that you will have additional procedures in your lifetime for capsular contracture, size change, or rupture. Most, however will have many years of enjoyment without requiring revisional surgery.
Breast Augmentation Recovery
It is important to take it easy for a week after surgery, but most return to sedentary type work and driving after one week. Plan on 5-6 weeks to return to full physical activity and heavy lifting.
Cost of Breast Augmentation
Breast augmentation is typically $7,200. We do offer a military discount off the surgeon's fee. There is a 10-year warranty included and a lifetime coverage of replacement implants for rupture or deflation by the implant companies. Center for Beauty caters to the needs of San Diego women, however is able to accommodate women from out of town and abroad who wish to travel to La Jolla for this procedure.
Schedule a complimentary personal consultation to further discuss your options and view Dr. Sardo's breast augmentation before and after photos.
Related Breast Surgery Procedures: