Dermal Fillers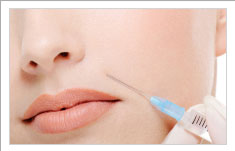 Dermal fillers allow men and women to restore volume in their faces while helping to eliminate the appearance of wrinkles and facial lines without the need for surgery. Depending on the particular type of filler and how deeply it is injected, these facial injectables can help smooth out the surface of the skin, fill in deep lines like nasolabial folds (laugh lines), create facial structure, and even augment soft tissue.
Types of Dermal Fillers
Juvéderm®
Juvéderm® is a cosmetic dermal filler made of hyaluronic acid. Hyaluronic acid is a natural substance that already exists in the human body and is used to provide volume and fullness. The hyaluronic acid in Juvéderm® is biodegradable and fully biocompatible with human hyaluronic acid.
Typically, Dr. Sardo uses Juvéderm® to treat the area around the mouth, including the nasolabial smile lines, lines at the corners of the mouth and along the lip border which gives the lips a fuller appearance and helps minimize wrinkles around the mouth. Juvéderm® lasts about a year. The cost is $550 per syringe.
VolumaXC™
VolumaXC™ is also a hyaluronic acid that has been more tightly crosslinked, allowing it to give firmer support to the tissues. It is used in a deeper plane for revolumizing and enhancing the contours of the cheeks. The volume and subtle lifting effect creates a more youthful profile for up to 2 years. Most will use 1-3 syringes for optimal treatment. The cost is $950 per syringe.
VollureXC
Vollure is a medium fill product similar to Juvederm. It is cross linked to cause it to be more flexible and softer than Juvederm. It is placed in the deeper part of the skin. Its ideal use is wrinkles in the cheeks, nasolabial folds and marionette lines. It is priced at $750 a tube and generally lasts about one and a half years.
Volbella
Volbella is the softest in the Juvederm suite of products. It is also cross linked to give superb flexibility and natural gentle lift of the tissues. It is ideally suited to lip enhancement and fine wrinkles around the mouth. It has the advantage of being able to be placed more superficially than the other hyaluronic acid injectable products. The cost of a syringe is $400 and it generally lasts about one year.
Sculptra®
Sculptra® is a unique filler used for the subtle, gradual plumping of facial contours. It is made from biocompatible, biodegradable synthetic material that has been used by physicians for decades and is highly trusted.
Sculptra® creates subtle results over time, giving you a natural and improved look. Sculptra® is made from poly-L-lactic acid which works to stimulate the production of collagen replacing that lost from aging. Dr. Sardo will typically perform injections in areas such as nasolabial folds (folds between your nose and mouth), around the cheeks, chin, and jawline. Sculptra® may require 1 to 3 (rarely 4-5) treatments (1 vial at a time) for the best results, and Dr. Sardo typically recommends these be scheduled four weeks apart. The cost is $950 per vial.
Bellafill®
Bellafill® is a long lasting filler comprised of collagen and permanent PMMA microspheres. Unlike other injectables, these unique microspheres are not absorbed by the body and instead work with your skin to produce your own collagen even after the injected collagen base is absorbed. Bellafill® is excellent for nasolabial folds and marionette lines and can also be used on depressed scars. It can last well beyond 5 years. Most patients only require one to two treatments to achieve their desired look. We are currently not performing this procedure.
What to Expect at Your Injection Treatment
Typically, dermal fillers can be administered in-office in about 30 minutes. Dr. Sardo will clean the treatment areas and may provide a topical anesthetic. Ice compresses are applied to minimize pain and bruising. The fillers contain an anesthetic as well to lessen discomfort when injected.
Dr. Sardo will carefully plan the procedure and location of injections. She may adjust your position and lighting during the procedure to assure the best results.
Risks and Recovery After Facial Fillers
Side effects are generally minimal, very well tolerated, lasting less than a week. Immediately following the procedure, you can return to full activity with no limitations. However, you should avoid heat after the treatment. Possible temporary side effects are redness, pain and tenderness, firmness, swelling, bumps, bruising, itching, and discoloration. Bruising may last up to 2-3 weeks. As with any cosmetic procedure, there is a potential risk for infection. Cool compresses after the procedure may help with bruising and swelling. If Sculptra was used you will be asked to massage the treated areas several times a day for 5 days.
Other Fillers
Dr. Sardo uses several other injectable fillers and also performs fat grafting depending on a patient's individual needs. Come in for a complimentary consultation for an evaluation to determine how fillers can improve and rejuvenate your appearance.
Related Facial Procedures: